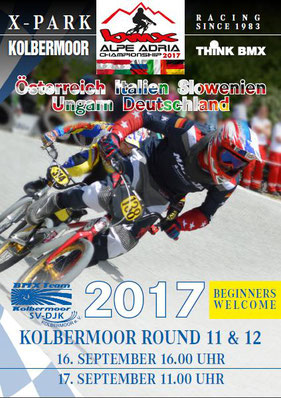 Liebe BMX Freunde,
das Maloja BMX Team Kolbermoor lädt euch herzlich ein zu Runde 11 -12 des Alpe-Adria BMX Championships in Kolbermoor.
Ausschreibung, Vornennungsformular und Infos zu Rennen und Anfahrt sind dieser Mail angehängt.
Um sich für das Rennen zu registrieren, bitte die "Entry-Form" Excel Datei ausfüllen und zurücksenden.
Wir freuen uns, Euch in Kolbermoor willkommen zu heißen.
Angie Herber
im Auftrag der Abteilungsleitung
__________________________________________________

Dear BMX friends,
we would like to invite you to round 11 & 12 of the Alpe-Adria BMX Championship in Kolbermoor, Germany.
I attached announcement, pre-registration form and a general information about race & schedule,  location, access & parking, in this mail.
To register for the race, please fill out and send back the Entry-Form Excel file.
Would really appreciate to welcome you in Kolbermoor
Thanks & Greetings,
Angie Herber,
on behalf of Pat Rohrmüller
Alpe-Adria BMX Championships in Kolbermoor Ausschreibung
Alpe-Adria BMX Championships in Kolbermoor Ausschreibung
Alpe Adria BMX Cup 2017 german.pdf
Adobe Acrobat Dokument
1.9 MB
Alpe-Adria BMX Championships in Kolbermoor Ausschreibung (Engl)
Alpe Adria BMX Cup 2017 english.pdf
Adobe Acrobat Dokument
1.9 MB
Alpe-Adria BMX Championships in Kolbermoor Ausschreibung Entry Form
ENTRY_FORM_AlpeAdria_2017.xlsx
Microsoft Excel Tabelle
111.0 KB