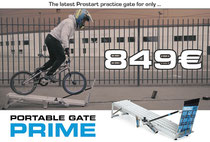 Often imitated, never equalled ; Prostart comes back with a new range of 1-rider gate that will allows more BMX racers to train their first pedal strokes and reach a better level thanks to this product.
The PRIME range, unveiled at 849 euros only, is in the line of The Original Prostart gate from 2009 and keeps the same assets that made its success.
Prostart worked hard for more than a year to fullfill the riders' technical expectation but also their purse in order to offer a state of the art technology gate at an affordable price.
The gate keeps the elements that have made its success since 2009, which are its lightness, robustness and ease of use. Moreover, it is still possible to link it with a timing system in order to know the progress accurately through the season.
This tool has proven to be indispensable to work the departures throughout the year and to gain efficiency from the first pedal strokes. Joris Daudet, world Champion 2016 and Mariana Pajon, Olympic champion 2016, two references in the BMX race world that are already convinced of the efficiency and results of the 1-rider gate.
The start represent 70% of the race ; what are you waiting for ?
We will be at the Grand's edition 2016 from 24th to 27th of November  and also at ST Etienne indoor from the 9th to 11th of December !
Picture : Capture d'écran 2015-11-06 19.17.51
Assets of the 1-rider gate : 
Aluminum gate, which allows it to be both light and rigid. With a thickness of 7mm, the door was made to withstand all types of rider, from the 6 year-old child to the professional.
Foldable gate so that it can be stored and transported as easily as possible
The gate rests on rubber pads to improve its contact with the ground. It can therefore be used without having an obstacle or heavy load in the rear.
Possibility to change the timing in order to gain more experience on the start'gesture and be able to adapt quickly on any BMX starting gate. 4 timing choices - From a "fast" gate with a trigger 120ms ate 
Speakers on the starting lights 
Plug in to connect the Prostart timing systems.
Contents of the Prime gate :
Aluminium gate With its electromagnet and its support bar for the door
Starter set  MiniBOX 12Vdc
All in one : Lights including speakers 
Connectors (12Vdc power supply, cigarette lighter socket, cigarette lighter extension
Color: Polish
Material : Aluminium
Weight: 12,9 Kg
Dimension folded: 800x380x280 mm
Dimension unfolded: 1950x380x280 mm (porte en bas)
electrical plugs: Prise de courant 220v ou prise allume cigare 12v
Timing set: 4 (-120ms, -60ms, officiel UCI/FFC, +60ms)
Waiting time:  3 seconds 
Speaker power3W